Pronunciation:
'み' is romanized 'mi'.

Words with 'み':
'み' at the beginning:
水 / みず (mizu -> water)
見る / みる (miru -> look; see)
短い / みじかい (mijikai -> short)
道 / みち (michi -> road)
緑 / みどり (midori -> green)
'み' in the middle:
踏み切り / ふみきり (fumikiri -> scratch; railway crossing)
神様 / かみさま (kamisama -> God)
雷 / かみなり (kaminari -> thunder)
真水 / まみず (mamizu -> fresh water)
秘密 / ひみつ (himitsu -> secret)
涙 / なみだ (namida -> tears)
'み' at the end:
波 / なみ (nami -> wave)
はさみ (hasami -> scissors)
手紙 / てがみ (tegami -> letter)
紙 / かみ (kami -> paper)
髪 / かみ (kami -> hair)
君 / きみ (kimi -> you; usually used by man, more polite than 'omae' but less polite than 'anata', but as for the song, woman usually uses it though)
Stroke order: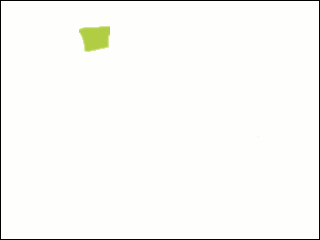 ---
Yo-oon
I am sure you remember yo-on from before. If not, please review Hiragana lesson 7. Hiragana 'み' can also be combined with Yo-on.
The yoon's for 'ひ' are:
みゃ/mya Ex. 

みゅ/myu Ex. 

みょ/myo Ex. 明星 / みょうじょう
---
Task: You shall write 'ま' 50 - 100 times in your textbook. Memorize the shape, the stroke order, the sound, the pronunciation (echo the sound of the character each time you write it down), etc.
And after you are finished with that, write 'ま', and 'み' one after each repetitively (ま, み, ま, み, etc.) 50 times (100 if you have time).
---
Tna: Ima nanji, Kaoko-chan?


Kaoko: 10.15 am...
Tna: Nani
? We've been waiting for forty minutes already?


Kaoko: Sou~



20 minutes later...


Miwako: Yo, Anatatachi! O-matase~ (hi, everyone! Sorry to have kept you waiting!)