Pronunciation:
'め' is romanized 'me' and prononced 'me' as in 'met'.

Words with 'め':
'め' at the beginning:
めがね (megane -> glassess)
回る / めぐる (meguru -> spin; rotate; round)
迷惑 / めいわく (meiwaku -> nuisance; trouble; annoyance)
目 / め (me -> eye)
目指す / めざす (mezasu -> aim)
'め' in the middle:
冷たい / つめたい (tsumetai -> cold [things])
場面 / ばめん (bamen -> scene; setting)
ごめん (gomen -> sorry)
有名 / ゆうめい (yuumei -> famous; popular; well-known)
'め' at the end:
だめ (dame -> don't)
ため (tame -> for)
雨 / あめ (ame -> rain)
姫 / ひめ (hime -> princess)
夢 / ゆめ (yume -> dream)
Stroke order: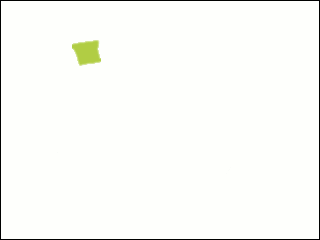 ---
Task: You shall write 'め' 50 - 100 times in your textbook. Memorize the shape, the stroke order, the sound, the pronunciation (echo the sound of the character each time you write it down), etc.
And after you are finished with that, write 'ま', 'み' 'む' and 'め' one after each repetitively (ま, み, む, め, ま, み, む, め, etc.) 50 times (100 if you have time).
---
Ikebana
Megure: *cough* *cough* Konnichiwa (Hello!), today, kono (this) Juuzo Megure is in charged of assisting today's lesson!


Megure: And the topic still about Japanese culture. Well, I'm not going to tell you about Japanese Police right now, but maybe later. Midori?
Midori: Doushita no, Anata? (What's the matter, Dear?)
Megure: You're ready to start off the lesson?
Midori: Oh, hai~ Konnichiwa, minna! Today, we're going to know closer about one of Japanese culture, which is Ikebana!

Midori: Then the styles were developed into three, they are Rikka, Shooka, dan Jiyuuka. Rikka

(standing flowers) style was developed as a Buddhist expression of beauty of nature. It includes seven branches representing hills, waterfalls, valleys, and other objects of nature arranged in a specific way...




Midori: I forgot to mention about Nagaire styles. It's

a non-structured design which led to the development of the Seika or Shoka style. The style is characterized by a tight bundle of stems that form a triangular three-branched asymmetrical arrangement which was considered classic.






Megure: Hmm... actually I don't really get the differences between those four, but yeah... maybe women know more... then in this modern era, is the style still the same?


Midori: In the 20th century, with the advent of modernism, the three schools of ikebana partially gave way to what is commonly known in Japan as Free Style. Those styles are Moribana Upright Style which is considered as the most basic structure in ikebana. Moribana literally means "piled-up flowers" that are arranged in a shallow vase or suiban, compote, or basket. Moribana is secured on kenzan or needlepoint holders, also known as metal frogs...