Pronunciation:
'る' is romanized 'ru'.
Words with 'る':
' る' at the beginning:
るっさい (russai -> noisy; loud; fussy; annoying; troublesome; tiresome; bossy)
るんるん気分/るんるんきぶん (runrunkibun -> euphoric mood; exuberant mood)
類/るい (rui -> kind; sort; class; family; genus)
' る' in the middle:
古い/ふるい (furui -> old (not person); aged; ancient; antiquated; stale; threadbare)
狡い/ずるい (zurui -> sly; cunning; dishonest; sneaky; crafty)
悪い/わるい (warui -> bad; poor; inferior; evil; sinful; unprofitable; unbeneficial; at fault; to blame; in the wrong; sorry)
軽い/かるい (karui -> light (i.e. not heavy); feeling light (i.e. offering little resistance, moving easily); nimble; agile; non-serious; minor; unimportant; trivial; slight; small; gentle; soft; easy; simple)
許す/ゆるす (yurusu -> to permit; to allow; to approve;to exempt (from fine); to excuse (from); to pardon; to forgive; to release; to let off; to confide in; to give up; to yield)
'る' at the end:
猿/さる (saru -> monkey)
在る/ある (aru -> to be (usu. of inanimate objects); to exist; to live; to have; to be located; to be equipped with)
樽/たる (taru -> cask; barrel)
昼/ひる (hiru -> noon; midday; daytime; lunch)
---
Stroke order: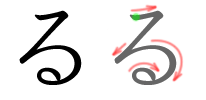 ---
Task:
You shall write 'る'
50
-
100
times in your textbook. Memorize the shape, the stroke order, the sound, the pronunciation (echo the sound of the character each time you write it down), etc.
And after you are finished with that, write 'ら', 'り', and 'る' one after each repetitively ( etc.) 50 times (or as many as you wish).

---
Tour de Kyoto!
Tour de Kyoto! Day 1
KANSAI INTERNATIONAL AIRPORT
関西国際空港
Osaka Bay, Osaka, Japan
Kenshin: Before we start our journey, let me explain a bit about Kyoto. Kyoto (京都) is a city in the central part of the island of Honshū, Japan. It has a population close to 1.5 million. Formerly the imperial capital of Japan (until 1868), it is now the capital of Kyoto Prefecture, as well as a major part of the Osaka-Kobe-Kyoto metropolitan area. Kyoto, located in the valley, is surrounded by Sea of Japan, Shiga Prefecture, Osaka Prefecture, Fukui Prefecture, Hyogo Prefecture, and Nara prefecture...
Kaoru: Kyoto is famous for its heritage sites like 1600 Budhist temples, 400 Shinto shrines, also another palaces, gardens, and architecture intact. The historic monuments of ancient Kyoto is included as one of Japan World Heritage declared by UNESCO in 1992...
Tna: Subarashii! So there are so many Japanese culture sites here... I can't wait to travel them one by one!
Kenshin: Since Kyoto only consisted of 11 wards, we may possible to visit them all...
Kaoru: We'll do the travel tomorrow, you two can have a rest for today... maybe Shimogokyu Hotel suits you both. Let's go~!
Kenshin: Oh but before that, let me show them the Kyoto map. Kore douzo...
Saturday, June 25
Kyoto Tower
Shimogyo Ward, Kyoto, Kyoto Prefecture
Japan
Kaoru: Since we're still in Shimogyo, let's take a look at the most famous landmark in Shimogyo... there it is, Kyoto Tower!
Kenshin: The steel tower is the tallest structure in Kyoto with its observation deck at 100 meters (328 ft) and its spire at 131 meters (430 ft).[2] The 800-ton tower stands atop a 9-story building, which houses a 3-star hotel and several stores...
Kaoko: Its design is completely different with the red Tokyo Tower we've ever seen...
Kenshin: Of course, because Tokyo Tower is inspired by the Eiffel Tower of Paris...
Kaoru: Kyoto Tower is split into two distinct structures. The primary structure is the steel spire that begins on the roof of the building below. Tourists may buy tickets and ascend one of the tower's nine elevators to visit the 100-metre (330 ft)-high, 500-person-capacity observation deck. This area is lined with game machines and pay telescopes and provides a 360-degree view of the city. From here, nearly all of Kyoto can be seen...
Sanosuke: The second structure that completely supports the 800-ton tower and gives the it its first 30.8 meters of height is a 9-story building. The first four floors of the building house several commercial areas, including a souvenir shop, a 100 yen shop, a bookstore and a dentist's office. In the basement of the building, there is a spa. Floors 5-9 are devoted to the 160-room, 3-star Kyoto Tower Hotel. Atop the building and surrounding the tower is the circular, three-floor restaurant named Sky Lounge "空"...
Tna: Omoshiroi (interesting)! May us go to the observation deck?
Yahiko:
Mochiron! Iku ze!
Kaoru: From the observation deck, we can see the mountains of Higashiyama and Arashiyama on the east and west sides respectively, while Kitayama can be seen to the north. On a clear day, some buildings in Osaka are visible to the south!
Kyoto International Manga Museum
Nakagyou Ward, Kyoto,
Kyoto Prefecture
Japan
Yahiko: Nah, we currently in the famous Kyoto International Manga Museum!
Tna: Wow, it really exists! As expected from the home of manga...
Kaoko: If only I lived here... I could read many different manga everyday...
Kenshin: Yeah, right. The museum which was opened on November 25, 2006, has collection of 200,000 items includes such rarities as Meiji period magazines and postwar rental books. Actually, it is the former Tatsuike Elementary School...
Sanosuke: C'mon, let's enter the building!
Nijō Castle
Nakagyou Ward, Kyoto,
Kyoto Prefecture
Japan
Kaoru: We're still in Nakagyou ward, in front of the Nijō Castle, one of the Historic Monuments of Ancient Kyoto!
Kenshin: It is a flatland castle consisting of two concentric rings of fortifications, the Ninomaru Palace, the ruins of the Honmaru Palace, various support buildings and several gardens. The surface area of the castle is 275,000 square meters, of which 8000 square meters is occupied by buildings...
Kaoru: The decoration of Ninomaru Palace
includes lavish quantities of gold leaf and elaborate wood carvings, intended to impress visitors with the power and wealth of the shoguns. The sliding doors and walls of each room are decorated with wall paintings by artists of the Kanō school...
Sanosuke: While Honmaru Palace has a surface area of 1600 square meters. The complex has four parts: living quarters, reception and entertainment rooms, entrance halls and kitchen area...
Kaoru: There is also Ninomaru Garden!
Tna, Kaoko: Kireeeei~!
Kenshin: More about Nakagyou Ward,
three most famous festivals of Kyoto, the Aoi Matsuri, the Gion Matsuri, and the Jidai Matsuri
can be seen here...
Aoi Matsuri
Gion Matsuri
Jidai Matsuri
Kitano Tenman-gū
Seimei Shrine
Nanzen-ji
Kamigamo Shrine
Shimogamo Shrine
Heian Shrine
Kyoto Institute of Technology
Kyoto Seika University
Story by Tna-chan